How did the new one-way-scheme affect BGC's traffic flow?
October 26, 2018
To improve the flow of traffic in Bonifacio Global City, the Bonifacio Estate Services Corporation (BESC) recently implemented a new one-way scheme in the business district. The scheme took effect on September 17 along the following routes: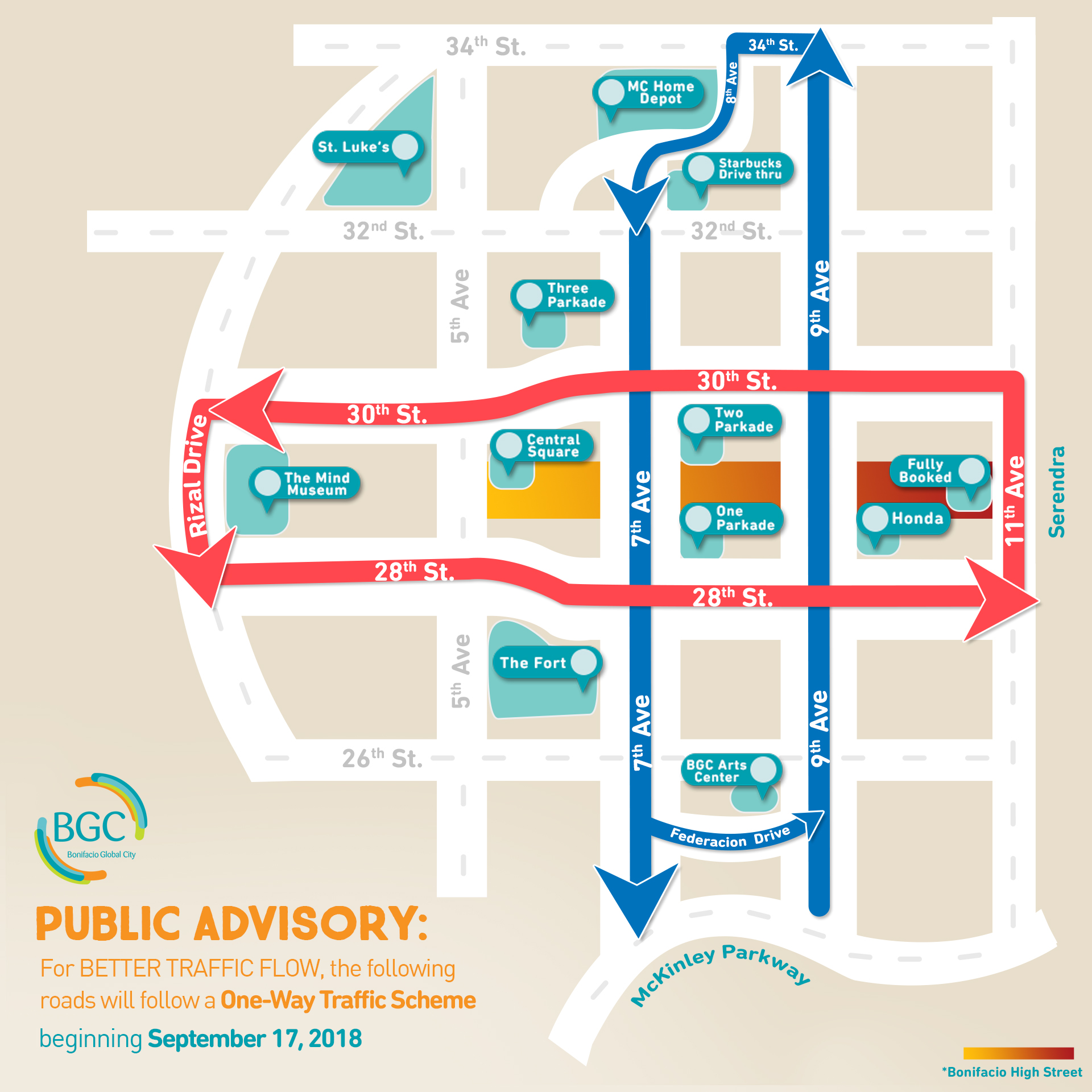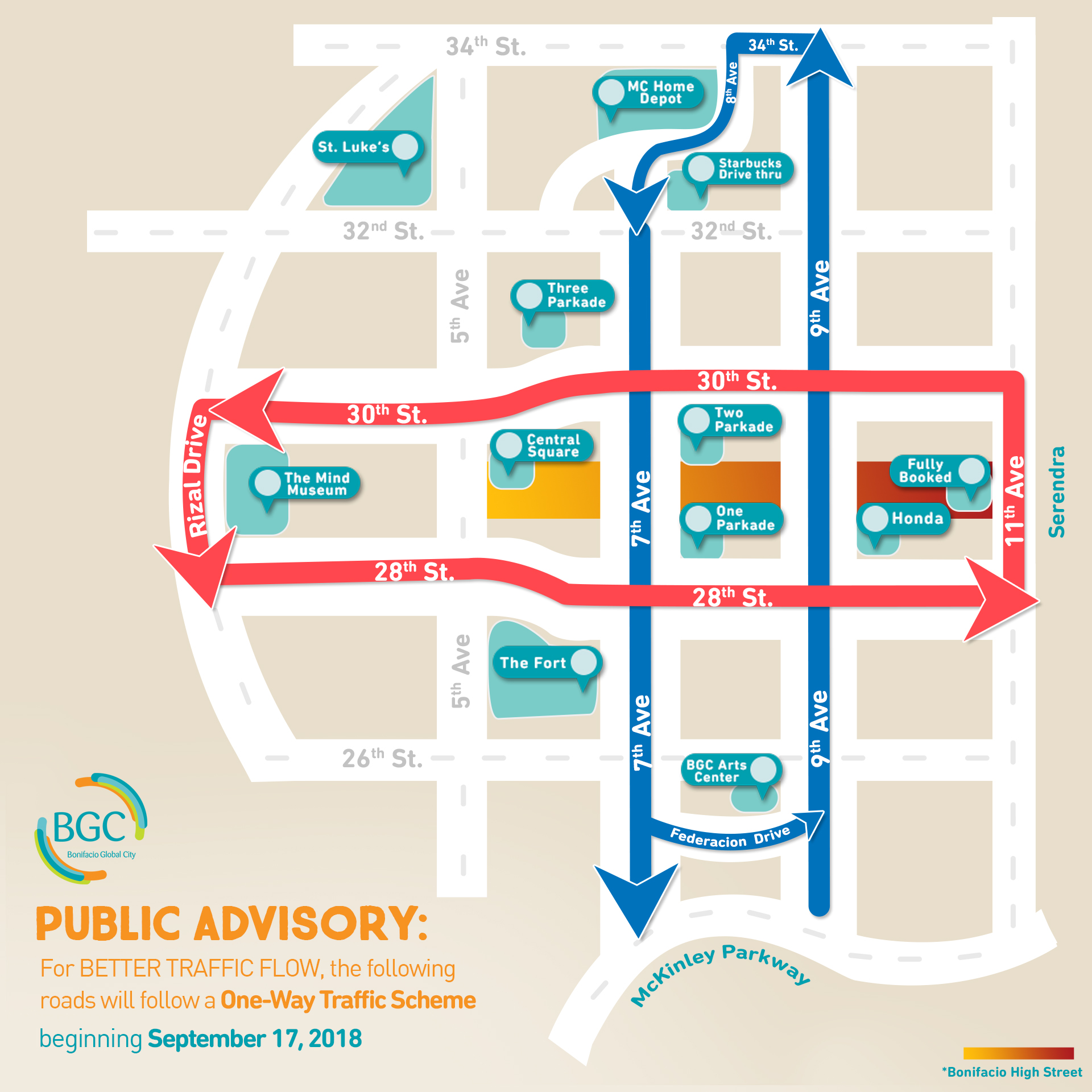 Using data from Waze, we analyzed how the new one-way scheme affected traffic flow in BGC.
We looked at data from two periods: the two weeks before the one-way scheme was implemented (Sept. 3-16) and the two weeks after (Sept. 17-30). Our initial results suggest that while the overall impact on BGC traffic has been negligible, some streets have improved, while others have gotten worse. The impact also varies by time of day.
Overall Impact
Although the frequency of traffic jams increased by 0.26% and average speed decreased by 0.86%, the average delay did improve by around six seconds (2.18%).
| | Before | After | Difference |
| --- | --- | --- | --- |
| Number of Jams | 131,277 | 131,618 | +0.26% |
| Average Speed | 1.16 km/h | 1.17 km/h | +0.86% |
| Average Delay | 261.43 sec | 255.74 sec | -2.18% |
| Percentage of Jammed Roads | 71.16% | 69.98% | -1.18% |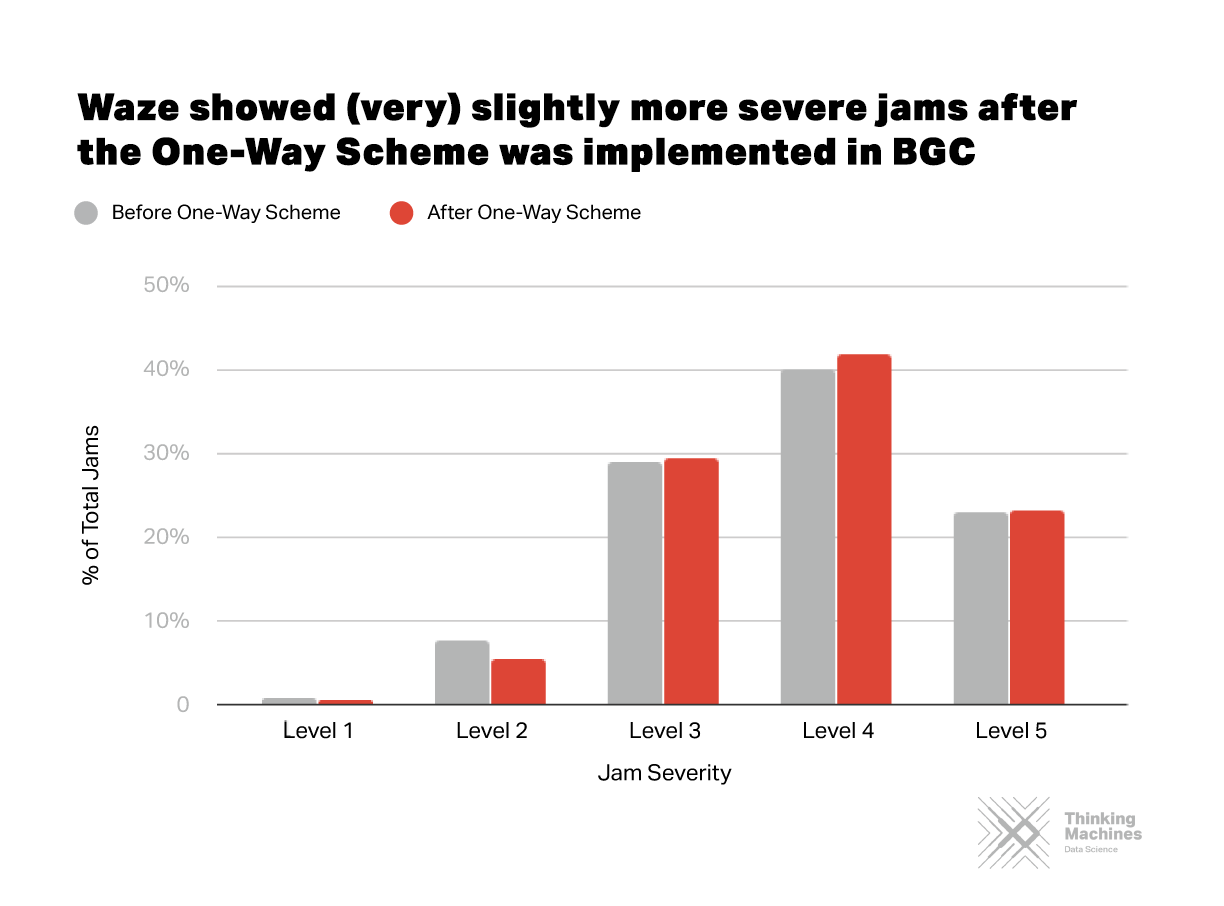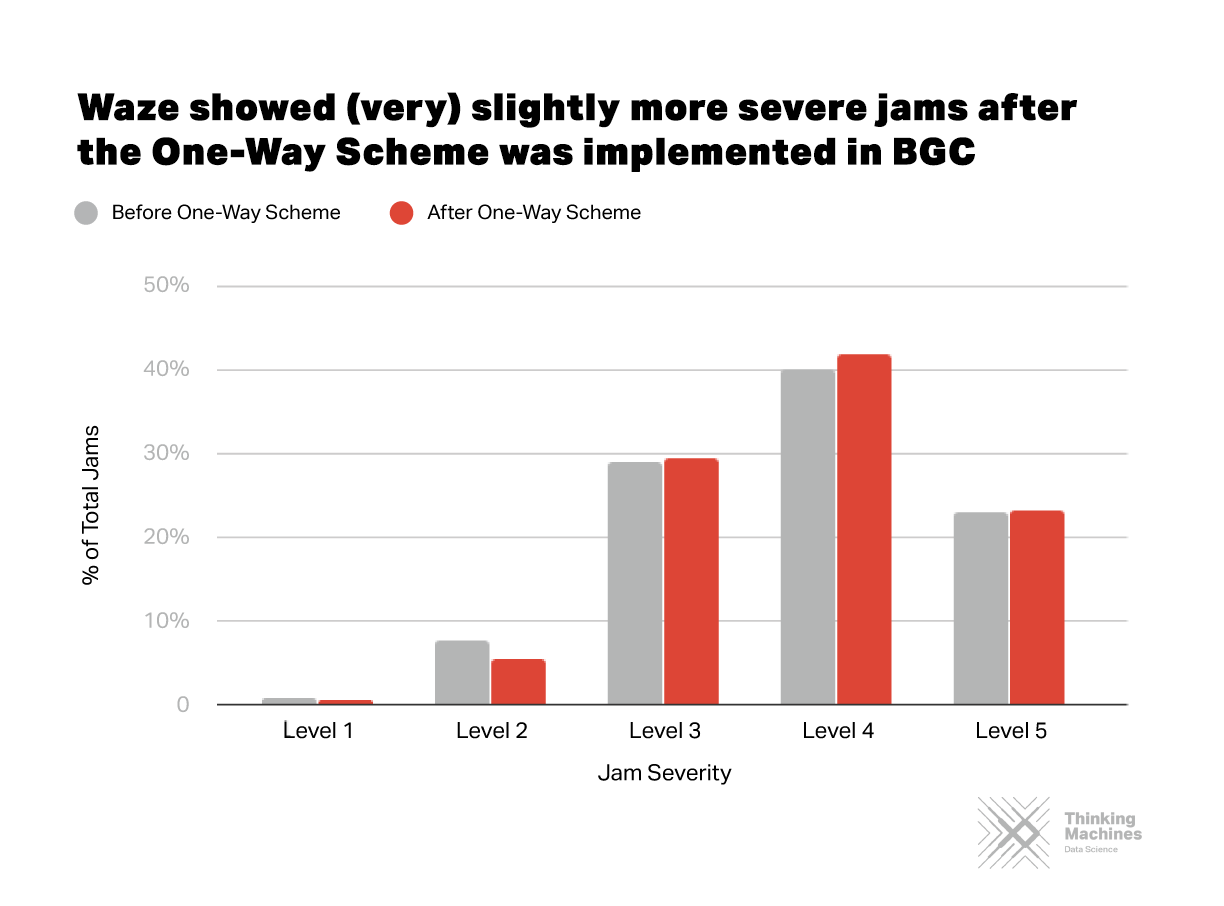 Impact per Street
The effect was more pronounced on the one-way streets and, to a lesser extent, the surrounding streets. We created a map of BGC that shows which streets improved in terms of increasing the speed of jammed cars passing through as well as in terms of decreasing the delay time experienced by jammed cars. Streets that have improved are colored green while streets that got worse are colored red.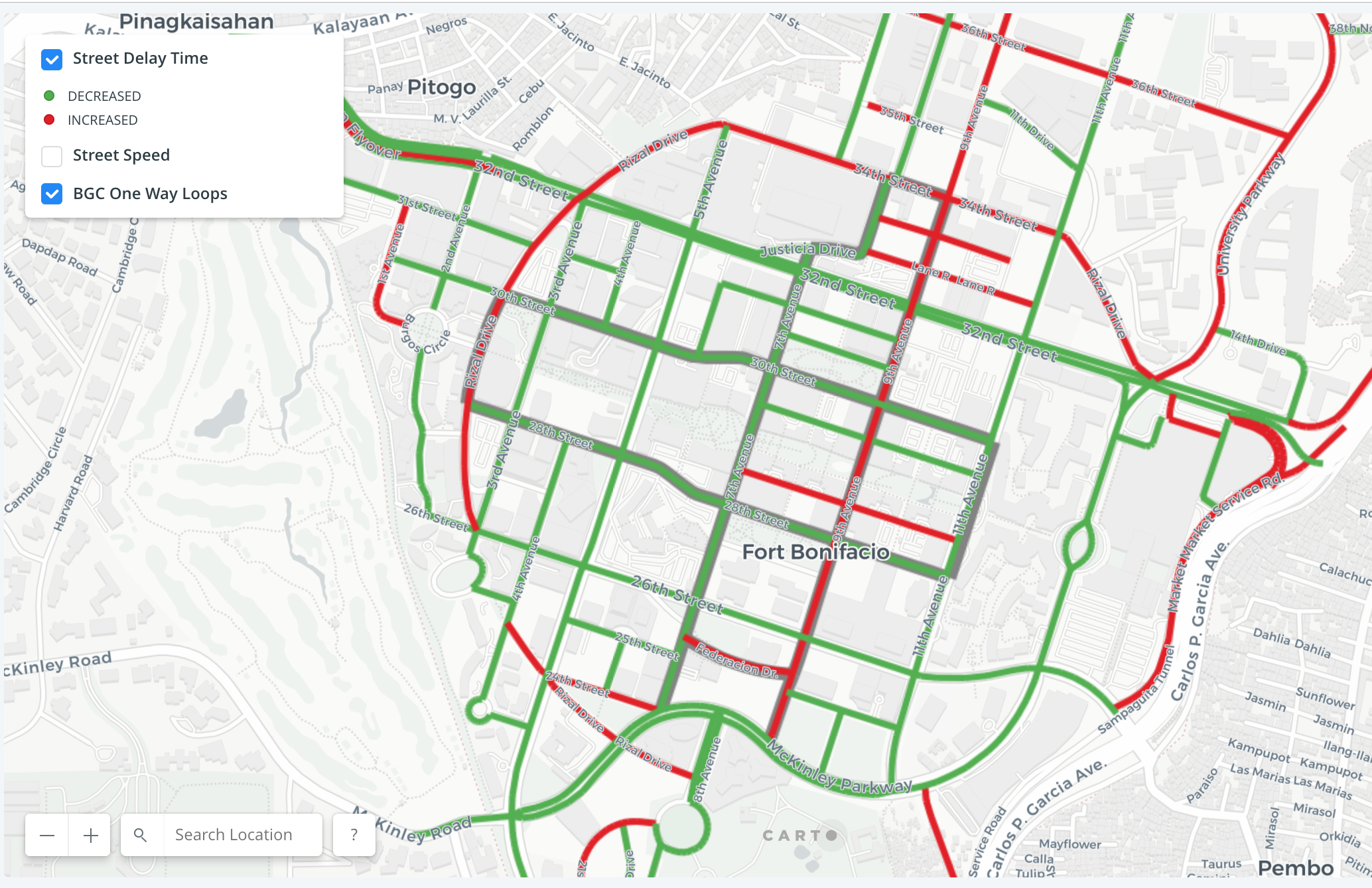 Impact by Time of Day
The following charts show a comparison between the average delay (in seconds) per hour over the course of the day for each of the streets included in the one way scheme. While 7th Avenue, 30th Street, and 11th Avenue showed significant improvements during rush hour, traffic seemed to spike along 28th avenue during morning and early afternoon hours.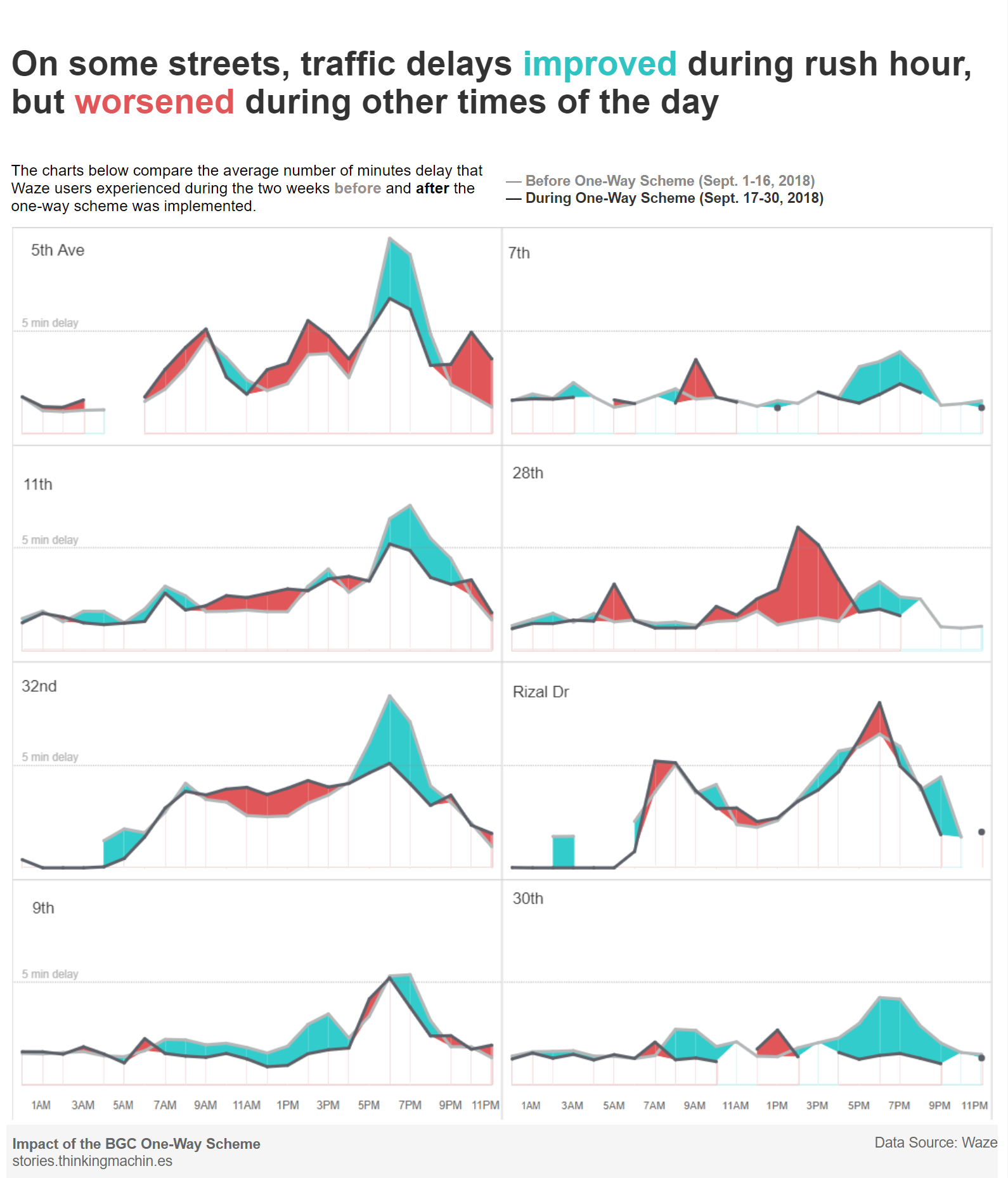 Reach out to us
How can our team help you find insight in data? Leave us a note or e-mail us directly at [email protected]