114 Years of Philippine Disasters, Visualized
November 7, 2016
It's easy to fall into thinking that a disaster as devastating as Typhoon Yolanda – the super typhoon that claimed over 7,000 lives in 2013 – could only happen once in a lifetime.
But that isn't strictly true.
Yolanda's impact, while massive, was not unprecedented. At least two other Philippine disasters have been almost as deadly: an earthquake-induced tsunami that killed at least 6,000 people in Mindanao in 1976, and a devastating flood that killed 5,956 people in Ormoc City in 1991.
Dozens of disasters strike the Philippines every year. Yet the names, details, and lessons learned from most disasters are too easily forgotten once the next one comes along.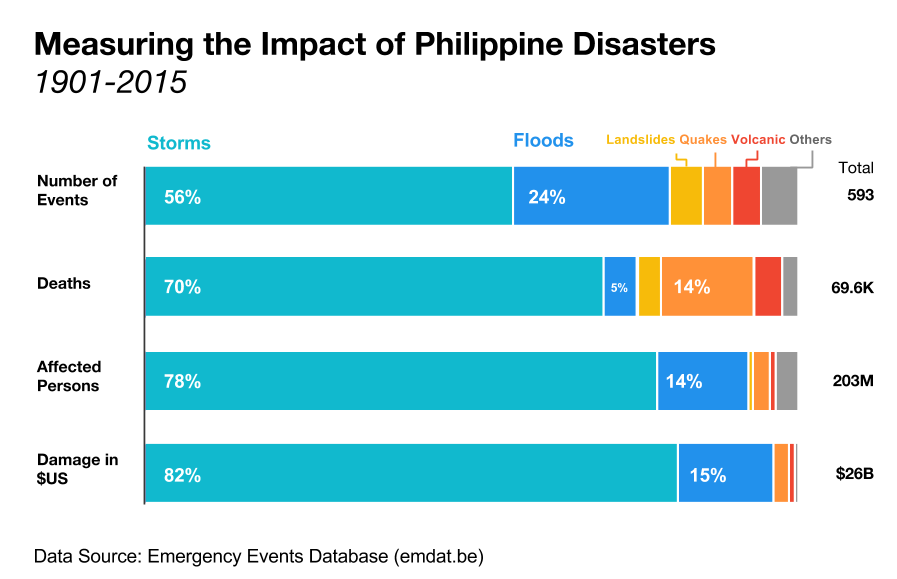 This visualization aims to provide an interactive history of almost every storm, earthquake, flood, volcanic eruption, landslide, drought, epidemic, or wildfire to have caused at least 10 deaths in the Philippines between 1901 and 2015. It uses data from the remarkably rich Emergency Events Database (EM-DAT), run by the Centre for Research on the Epidemiology of Disasters (CRED) in Belgium.
Each dot on the chart represents one disaster, and is sized to reflect the number of deaths associated with that disaster. The Emdat.be dataset also has information on the number of affected persons and damage (in US$ Current Value) caused by each disaster. To find the local names and descriptions of some of the more notable disasters, we've gathered information from other online sources, listed below. Use the filters to view disasters by type.
There's little we can do to prevent natural disasters. But we can prepare for them by learning to view disasters not as unpredictable, disconnected events, but as part of a larger pattern over time.
Filter:

Jan
Feb
Mar
Apr
May
Jun
Jul
Aug
Sept
Oct
Nov
Dec
Sources:
D. Guha-Sapir, R. Below, Ph. Hoyois - EM-DAT: The CRED/OFDA International Disaster Database – www.emdat.be – Université Catholique de Louvain – Brussels – Belgium.
De la Cruz, G. (2014, August 01). Worst natural disasters in the Philippines. Retrieved November 03, 2016 from Rappler.com
De la Cruz, G. (2015, August 17). Midnight killer: The 1976 Moro Gulf tsunami. Retrieved November 03, 2016, from Rappler.com
Landslide Photo Collections. (n.d.). Retrieved November 03, 2016, from Agence France-Presse (2013, November 08).
Dela Cruz, G. (2014, August 02). Deadliest typhoons in the PH. Retrieved November 03, 2016, from Rappler.com
Looking back: The 1968 Casiguran earthquake. Retrieved November 03, 2016, from Rappler.com
GLIDEnumber V2.0. (n.d.). Retrieved November 03, 2016, from http://www.glidenumber.net/glide/public/search/search.jsp
MAP: Strongest earthquakes in the Philippines. (2015, March 27). Retrieved November 03, 2016, from Rappler.com